AUTHOR'S NOTE: The version of this story recently published by another publication omitted the section at the end about the Preserve AMI campaign. The omitted information is presented in the stand-alone story below. The entire story that includes the omitted information can be read here: Beachfront homeowners launch Preserve AMI campaign.
UPDATE: Saturday, July 24:
On Tuesday, July 20 FDEP issued a final order in favor of Fedora Campbell's request to develop her vacant beachfront lot at 105 Elm Avenue in Anna Maria. Campbell's property is located seaward of and in front of the beachfront home at 107 Elm Avenue owned by Wendy and Robert Jordan. FDEP's final order was issued after this story was written and originally published. A follow-up story about the FDEP final order is being written.
ANNA MARIA – The Preserve AMI campaign is being carried out by Patrick Coyne on behalf of Wendy and Richard Jordan – the owners of a beachfront home at 107 Elm Avenue in Anna Maria.
Coyne, a longtime friend of the Jordans, lives in North Carolina, where he owns and operates Coyne & Co. – a firm that offers "innovative brand building" across multiple media platforms. Coyne also serves as the Preserve AMI spokesperson.
To date, the campaign has included the PreserveAMI.com website, full page newspaper ads and an online petition signed by more than 960 people.
The Preserve AMI website contains a video in which land surveyor Jeff Hostetler explains the dispute as it pertains to the coastal construction control line and how the Jordan's home that was built according to the Coastal Construction Control Line as it existed in 2012.
One recent full-page newspaper ad included a headline that referenced Murphy and said, "Tell Mayor Dan to do the right thing." Another recent full-page ad included a different headline that said, "Tell our local officials to do the right thing."
On Wednesday, July 14, this author conducted an hour-long phone interview with Coyne, who at the time was on or near Anna Maria Island. Coyne acknowledged that doesn't live on Anna Maria Island, is not real familiar with the Island and has never met Murphy or attended an Anna Maria City Commission meeting.
When interviewed at that time, Coyne did not yet appear to have a clear understanding as to the distinction between the city of Anna Maria and Anna Maria Island as a whole. Coyne could not clearly articulate whether the print ads that referenced "local officials" pertained to local officials in Anna Maria only, or to local officials in Bradenton Beach and Holmes Beach as well. Nor was Coyne able to clearly articulate any specific actions the Preserve AMI campaign seeks from Murphy and other local officials regarding the FDEP permitting dispute.
When asked why one full-page newspaper ad addressed "local officials" and the other addressed "Mayor Dan," Coyne said the differing headlines were part of his campaign strategy.
In reference to interim FDEP Secretary Shawn Hamilton, additional Preserve AMI signs and website materials say, "Tell Florida's DEP Secretary to do the right thing."
The Preserve AMI campaign has included signs placed at and near the Jordans' beachfront home. A visit to that area on the morning of Thursday, July 15, revealed a Preserve AMI sign placed in the dune on the 103 Elm Avenue property, a similar sign attached to the Jordans' balcony and another free-standing sign placed on private property at 104 Elm Ave, alongside the beach access path. All three signs carried the "Tell Mayor Dan to do the right thing" message.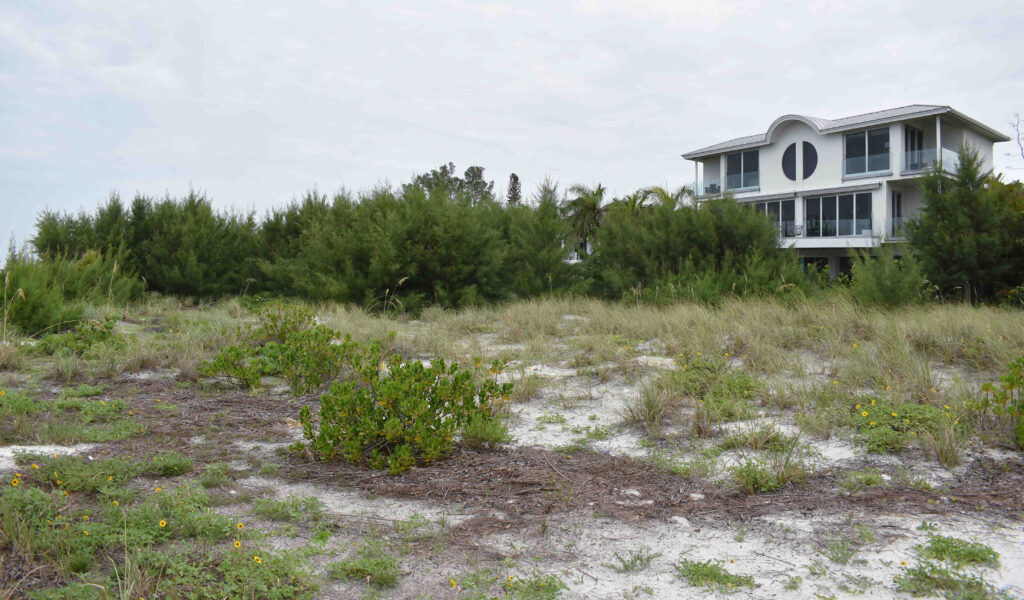 When contacted that day, Code Enforcement Manager Debbie Haynes said the signs were legally placed on private property. Haynes noted the Jordans were previously cited and fined $250 for a campaign related sign on their property that exceeded the size allowed by the city's sign ordinance.
On Friday, July 16, Coyne shared an email that stated Preserve AMI was putting a pause on its print advertising campaign until a private meeting between Murphy and the Jordans could be scheduled. As of Friday, July 23, that in-person meeting had not yet been scheduled because the Jordans were unavailable to meet in person and Murphy declined conducting that meeting remotely via Zoom teleconferencing software.
When contacted, Murphy has declined commenting publicly about these matters.