Author's Note: This report is solely the work of this author and is not affiliated with any other publication or news organization on Anna Maria Island. The author takes no joy in reporting these events but feels a journalistic responsibility to do so. Sympathies and condolences are extended to all those impacted by these tragic and horrific events.
HOLMES BEACH – The now-deceased owner of the Island Grill restaurant in Holmes Beach and an employee of that restaurant were both recently investigated by the Bradenton Police department.
The Island Grill is located at 5910 Marina Drive in Holmes Beach. According to multiple sources, Owen Hagan was an employee at the Island Grill restaurant owned and operated by Scott St. Blanc.
Owen Hagan arrest
On June 28, Owen Hagan was arrested on 26 alleged counts of possession of content depicting sexual conduct of a child, in violation of Florida Statute 827.071 (5)(a).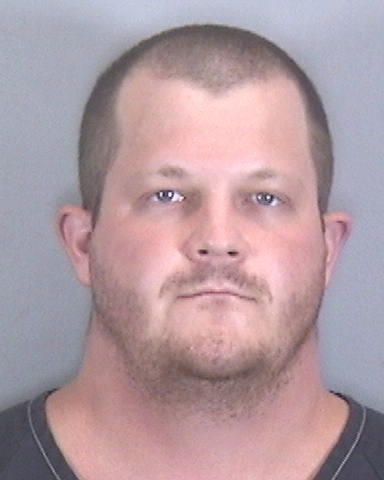 According to the affidavit in support of arrest for Hagan, "The charges are enhanced because the images or video met at least one of the following criteria; and the content of least one image contains one or more of the following:
1. "A child who is younger than the age of 5;
2. Sadomasochistic abuse involving a child;
3. Sexual battery involving a child;
4. Sexual bestiality involving a child;
5. Any movie involving a child, regardless of length and regardless of whether the movie contains sound."
Obtained as a public record from the Manatee County Clerk of the Court website, the redacted affidavit can be viewed here. Be warned: the details are sexually graphic and very disturbing. (You will need a PDF reader to view the documents contained in this story)
On Wednesday, July 7, attorney Allanah Louise McClintock entered a plea of not guilty on behalf of Hagan. As of Saturday, July 10, Hagan was still incarcerated at the Manatee County Jail. An arraignment hearing is scheduled for Friday, July 23.
According to Manatee County court records, Hagan was previously convicted of driving under the influence and an arrest warrant was recently issued for his violation of probation.
Scott St. Blanc suicide
Island Grill owner Scott St. Blanc was found dead on Friday, July 2.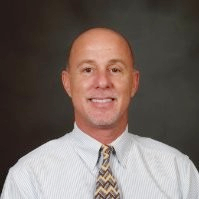 According to the incident/investigation report obtained from the Bradenton Police Department, "On today's date, 07/02/2021, I was dispatched to a reported suicide at the Perico Preserve located at 11700 Manatee Ave. W. Upon my arrival I located a white male later identified as Mr. Scott St. Blanc who appeared to have hung himself. There was no signs of trauma and it does not appear to be suspicious. Mr. St Blanc tied a teal and white rope around his neck to commit the act. The rope was secured to a roof beam to a pavilion where he was located. The detectives will handle the next of kin notification as they are already working a case with Mr. St. Blanc."
The redacted incident/investigation report can be viewed here.
St. Blanc criminal investigation
According to another redacted incident/investigation report obtained from the Bradenton Police Department, the aforementioned case involving Scott St. Blanc pertained to a criminal investigation initiated in February.
Dated Feb. 8, that report references "lewd and lascivious" as a suspected criminal offense. The heavily redacted Feb. 8 report also references an "upload" of some sort and notes: "At this time this is an ongoing investigation."
The Feb. 8 report can be viewed here.
According to one of St. Blanc's neighbors, a SWAT team visited St. Blanc's residence the day before his suspected suicide. When contacted, neither the Manatee County Sheriff's Office nor the Bradenton Police Department provided any details regarding a SWAT team visit when asked if such a visit occurred. St. Blanc was not arrested as a result of that visit.
According to the Manatee County Sheriff's Office website, St. Blanc has never been arrested in Manatee County. According to the Manatee County Clerk of the Court website, St. Blanc was never the subject of a civil or criminal legal matter in Manatee County.
St. Blanc's neighbor was also among those who confirmed that Hagan was an employee of the Island Grill. The court documents and redacted police reports obtained thus far by The Sunshine Gazette do not reference any known or suspected criminal connections between Hagan and St. Blanc. At this time it is not known if the two investigations are intertwined or related.
On Saturday morning, a bouquet of flowers, a Scott St. Blanc obituary and a note regarding inquiries was found at the front door of the Island Grill.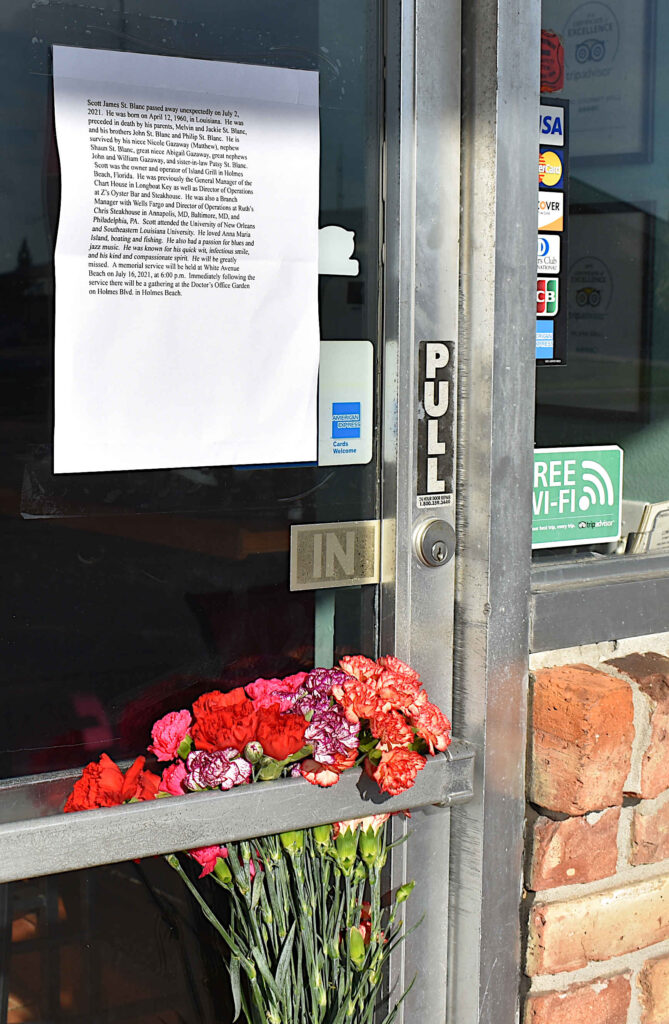 A memorial service for Scott St. Blanc and a post-service gathering will be held on Friday, July 16.