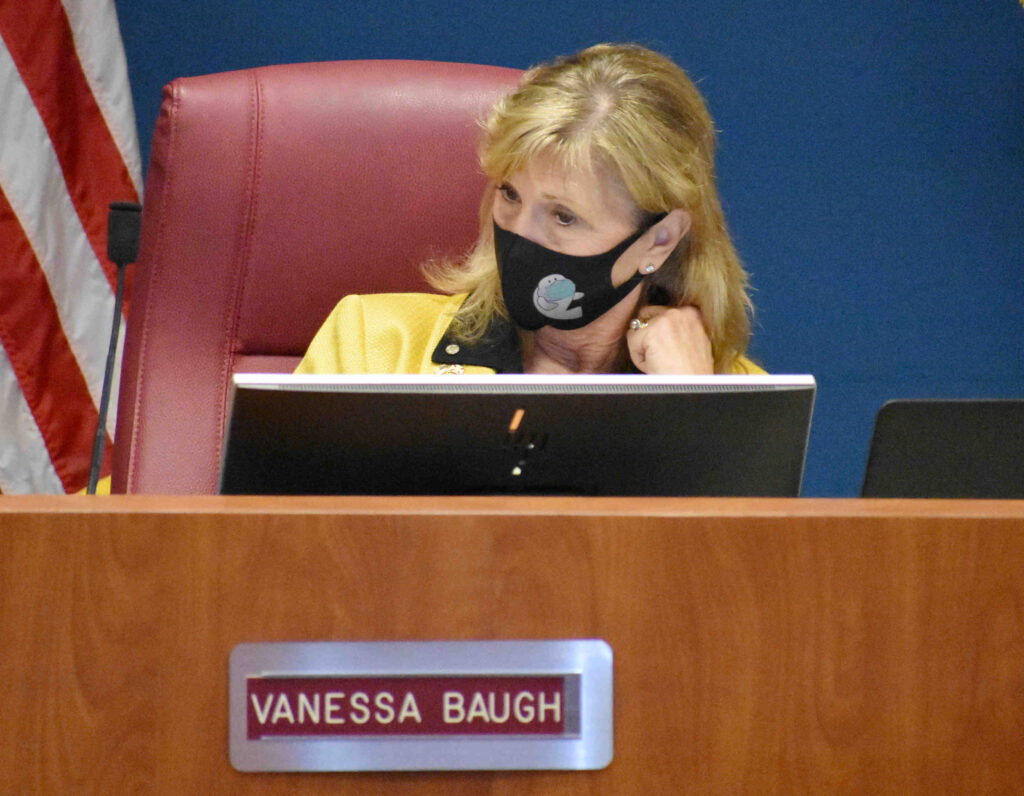 BRADENTON – On Tuesday, county resident Jennifer Hamey filed a complaint with the Florida Commission on Ethics regarding Manatee County Commissioner Vanessa Baugh's recent role in organizing a pop-up COVID-19 vaccination distribution site in Lakewood Ranch.
Hamey, a local attorney, filed the ethics complaint one day after Sarasota paralegal Michael Barfield filed a sworn criminal complaint with State Attorney Ed Brodsky's office and the Manatee County Sheriff's Office regarding Baugh's recent vaccine-related actions.
When contacted via email Tuesday afternoon Manatee County Sheriff's Office Public Information Officer Randy Warren confirmed Barfield's complaint and said, "It's an active investigation. Michael Barfield filed a complaint yesterday and our detectives are looking into it now."
Hamey's ethics complaint and Barfield's complaints are separate and independent actions that pertain to the same issues.
Ethics complaint
Taking place the week of Feb. 16 at the Premier Sports Campus in Lakewood Ranch, vaccine eligibility for the pop-up clinic Baugh helped organize was limited to 3,000 recipients in the 34202 and 34211 zip codes only. As part of her efforts, Baugh also submitted to Manatee County Public Safety Director Jacob Saur a list containing the names of five specific individuals, including herself, to be vaccinated.
Baugh helped organize the Lakewood Ranch vaccination site in conjunction with Gov. Ron DeSantis and Lakewood Ranch developer Rex Jensen.
Regarding the Lakewood Ranch vaccination site, Manatee County issued a press release on Feb. 15 in which Baugh was quoted Baugh as saying, "This unique opportunity was made possible by Governor DeSantis calling (Schroeder-Manatee Ranch Inc. president) Rex Jensen wanting to do a vaccination site near Lakewood Ranch. The governor has been trying to find large areas of neighborhoods to target.'"
According to Baugh's short list, which contained each person's zip code, address, phone number and birth date, two of the five people on that list – Rex Jensen and his father Lawrence Jensen – do not live in the 34202 or 34211 zip codes. Baugh's short list also included Lakewood Ranch residents Robert and Marie Keehn, who like Baugh, do live in the 34202 zip code.
The Lakewood Ranch pop-up vaccine distribution site's zip code restrictions were not in accordance with the randomized, lottery-based vaccine registration and standby pool protocols previously established by the Manatee County Commission.
As a result of the public fallout that ensued, Baugh later apologized to some degree for her actions and she said she chose not to receive the vaccine herself.
Issues for consideration
Hamey's ethics complaint lists two issues for consideration by the Commission on Ethics.
"Did respondent (Baugh) violate Florida Statute 112.313(6), Misuse of Public Position, by ignoring the county's lottery system for the COVID-19 vaccine distribution and instead unilaterally picking two zip codes in her district to receive 3,000 additional vaccines issued by the state, to the detriment of all other Manatee County residents 65 and over who had signed up for the lottery system?"
"Did respondent violate Florida Statute 112.313(6), Misuse of Public Position, by putting herself and four friends onto a 'VIP' list provided to the county to insure she received a vaccine from the extra doses provided by the state?"
Hamey's complaint notes that in February Baugh was approached by DeSantis with an offer to provide 3,000 additional vaccines for a pop-up vaccination site at the Premier Sports Campus.
To date, the county administered vaccinations have generally occurred at Tom Bennett Park in east Manatee County and also at the county's public safety center.
Hamey's complaint notes the Premier Sports Campus is owned and operated as a Manatee County park.
"Respondent (Baugh), by her own admission as stated by her at a county work session on Feb. 18, took full responsibility for choosing the two zip code locations and advised she was not directed by the governor to do so. Both of these zip codes are located in her district, are predominantly white and have an average median income of over $100,000," the complaint states. It also notes Baugh lives in the 34202 zip code and owns a business there as well.
The ethics complaint states, "Respondent (Baugh) further admits in her responses to correspondence from an angry resident that she 'did have a lack of judgement.'"
Hamey's complaint cites language contained in Florida Statute 112.313(6) that states, "No public officer shall corruptly use or attempt to use his or her official position or any property or resource which may be within his or her trust, or perform his or her official duties to secure a special privilege, benefit or exemption for himself, herself or others."
The complaint also states, "The first instance of violating 112.313(6) occurred when respondent (Baugh) took it upon herself to determine what two zip codes were worthy to receive an additional 3,000 vaccines and chose two areas that were advantageous to her personally and to the detriment of the other 150,000 persons over the age of 65 who had done as directed and entered into a lottery system.
"Respondent used her position to advise the governor of her choices. She did so with no discussion with the other six commissioners, and she did so without any consideration to the very lottery system she (and the other commissioners) put into place for the residents of Manatee County to maintain fairness in the process," according to the complaint.

"The second instance of violating 112.313(6) occurred just days after already excluding over 140,000 residents from a chance at the 3,000 vaccines – only 7,285 of the approximately 150,000 signed up residents lived in 3402 or 34211. Respondent created a 'VIP' list to ensure that she and several friends and neighbors got vaccines out of those 3,000 that were provided by the state. Two of the parties that she listed on her 'VIP' list didn't even live within the two zip codes that she chose as the ones to get the vaccine," Hamey stated in her complaint.
"These actions taken by the respondent, separately and over the course of approximately a week, are a clear violation of the requirements outlined in 112.313(6)," the complaint states.
The ethics complaint is accompanied by several evidentiary exhibits, including the Monday, Feb. 15 email Baugh sent Saur that contained her list of five specified vaccine recipients.
The exhibits also include the Tuesday, Feb. 9, email Baugh sent Saur that said, "Jake, the state wants Rex to keep a list. Can we do that."
In response, Saur wrote, "The state hasn't mentioned anything to us on this end yet on what they require. We would be able to pull from our vaccine waiting pool for scheduling for them."

Baugh remains commission chair
On Tuesday, the Manatee County Commission voted 4-3 in opposition to Commissioner Reggie Bellamy's motion to remove Baugh as the commission chairperson. Bellamy's motion did not seek to remove Baugh as county commissioner, nor does the commission have that authority.
Before making his motion, Bellamy asked Baugh if she would resign as commission chair. Baugh said she would not.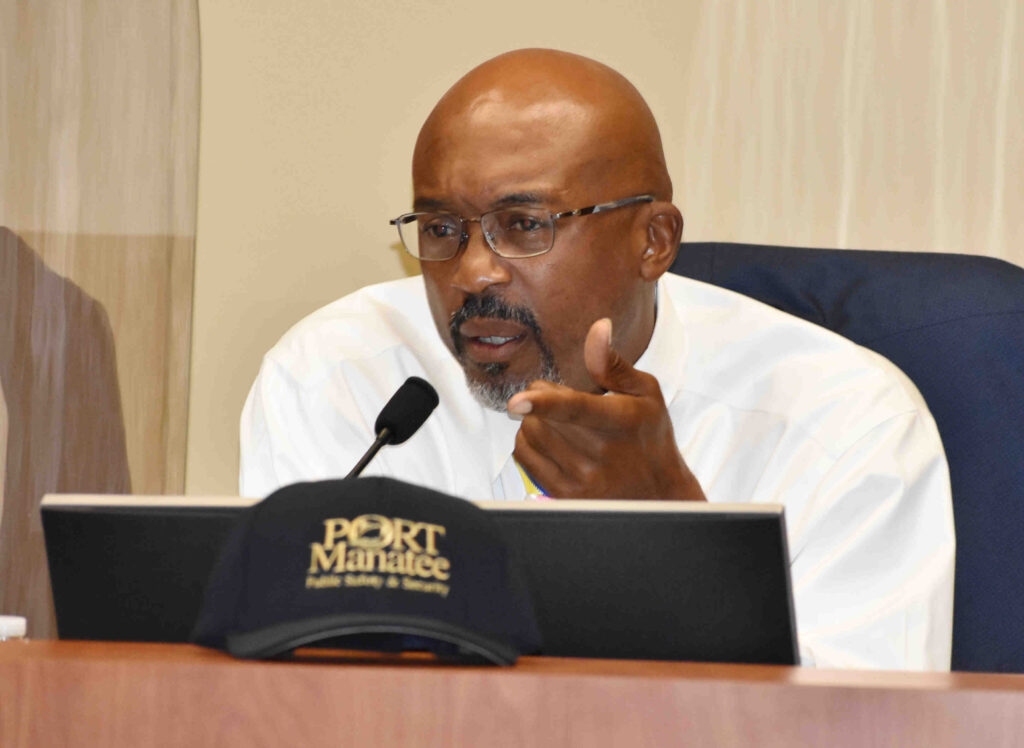 Baugh was joined by commissioners George Kruse, James Satcher and Kevin Van Ostenbridge in opposing her removal as chair. Commissioners Misty Servia and Carol Whitmore joined Bellamy in support of his failed motion.