BRADENTON BEACH – The city of Bradenton Beach seeks $31,645 in attorney fees, paralegal fees and legal costs from lawsuit defendant Reed Mapes.
Mapes is the only remaining defendant in the 2017 Sunshine Law-related civil lawsuit in which the city prevailed. In July 2019, Circuit Court Judge Edward Nicholas ruled Mapes and five additional former city advisory board members violated the Government in the Sunshine Law by discussing official city business at their non-city-affiliated Concerned Neighbors of Bradenton Beach meetings in 2017.
The Sunshine Law requires members of the same elected or appointed governmental body to conduct their official business in properly noticed public meetings. It also prohibits members of the same elected or appointed body from communicating with each other privately about their official business.
In October 2020, Nicholas ordered Mapes, Martin and Metz to collectively pay the city a total of $369,498 for the recovery of city's attorney and paralegal fees. When issuing that ruling, Nicholas relieved co-defendants Patty Shay, Rose Vincent and Bill Vincent of those shared financial responsibilities. Nicholas did so after learning the three of them had each agreed, before the trial began, to settle with the city for $500 each and an acknowledgement that Sunshine Law compliance errors were made.
The city commission then rejected those 2019 settlement offers because Mapes, Martin and Metz had not agreed to similar settlements which would have brought the case to an end before it went to trial.
In November, Metz and Martin reached a settlement agreement with the city that resulted in the pair paying the city $350,000 and dropping their appeals of Nicholas' 2019 ruling. In separate actions, Shay and the Vincents agreed to pay the city $500 each, with the Vincents also agreeing to drop their appeals. Shay did not appeal Nicholas' 2019 ruling.
Final hearing
On Monday, March 29, Nicholas presided over a fees and costs hearing held virtually via Zoom. Assisted by paralegal Michael Barfield, Robert Watrous again represented the city. Mapes represented himself at the hearing that lasted slightly more than 30 minutes.
Watrous noted the actions sought were in accordance with statewide uniform guidelines for the taxation of costs and civil actions. Watrous said he would provide the court and Mapes with a cost summary and detailed supporting documents that verify all legal fees and costs billed to the city of Bradenton Beach through the conclusion of the 2019 civil lawsuit trial.
"Mr. Mapes is the only remaining defendant. We have settled with Mr. Metz. We have settled with Ms. Martin. The other defendants we have settled with also," Watrous told the judge.
Watrous said the $350,000 payment made by Metz and Martin, and the $1,500 received from Shay and the Vincents, totaled $351,500, leaving a remaining deficiency of $17,998 in unrecovered attorney and paralegal fees.
"It's our position that those would be the responsibility of Mr. Mapes because he is the only remaining defendant," Watrous said.
Watrous and the city seek an additional $13,647 in legal costs that include court reporter fees, court reporter transcription fees, photocopying and other non-attorney, non-paralegal costs.
"It's our position that Mr. Mapes be responsible for the costs," Watrous said.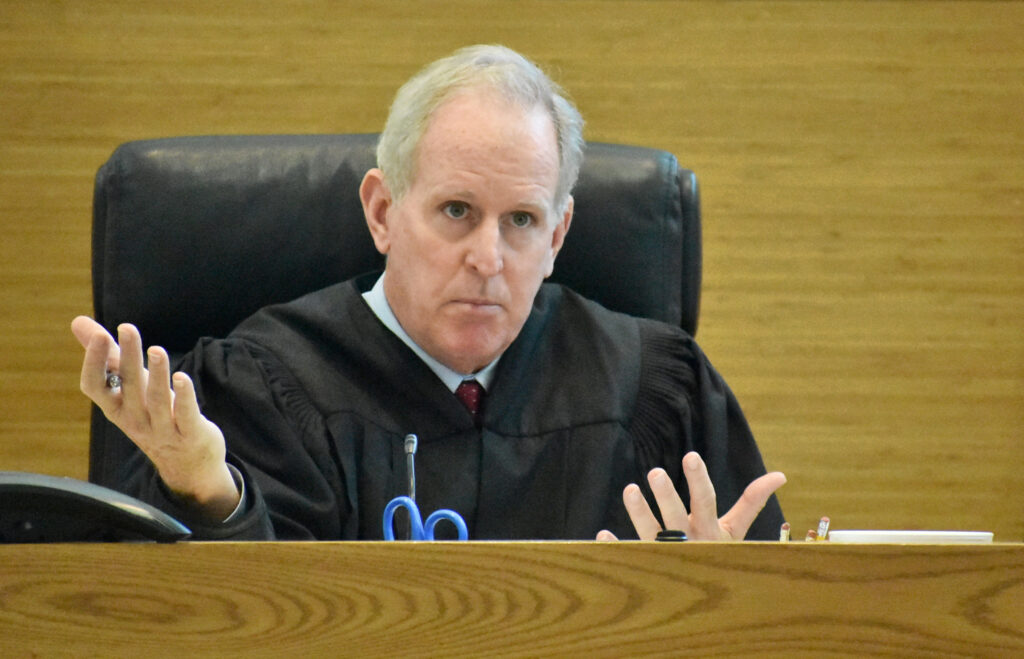 Nicholas then provided Mapes a chance to respond.
"I find it interesting that Mr. Metz and Tjet Martin paid $350,000 to end their issues. Then, after all of this time, Patty Shay and the Vincents settled for $500. I can't quite figure out what I wasn't offered the same. It seems somewhat odd to me that they settle with these three people that we know have very little funds. I have no funds. I'm a little bit befuddled about that and can't quite figure out how they got such a good deal at the last minute," said Mapes, who was dealing with some health issues before and during the 2019 trial.
Mapes owns a home in Parrish which according to the Manatee County Proper Appraiser's Office currently has an appraised value of $501,732. In 2018, Mapes and his wife sold their Bradenton Beach condominium for slightly more than $1 million.
Regarding the rejected settlement offers Shay and the Vincents signed before the trial began, Mapes said, "I didn't sign the document that came out in 2019 because I knew good and well John Metz was not going to agree to it. I saw no reason to sign something I knew was not going to go anywhere, but all the sudden it went some place at the very end with Patricia Shay and the Vincents."
Nicholas did not ask Watrous to do a line-by-line review of the costs and fees sought, but he did ask Watrous to swear that the information contained in the summary of costs was true.
Nicholas directed Watrous to provide Mapes with copies of the cost summary and the supporting documents. He also ordered Watrous to file a sworn affidavit regarding the remaining $17,998 in attorney and paralegal fees sought.
"I'm not going to rule today with regard to this issue. I have to review the summary of costs in more detail now that it's sworn to," Nicholas said.
Nicholas gave Mapes until Friday, April 16, to file any objections he has regarding the fees and costs sought.
In closing, Nicholas said, "This case is almost at the finish line and I'm not inclined to have any more hearings. I don't think that it's necessary. I'm not likely to make any decisions prior to April 16."
As of Wednesday morning, April 7, Mapes had not yet filed any objections.