ANNA MARIA – Bad Company and former Free drummer Simon Kirke brought his multitude of musical talents, humor and storytelling skills to The Center of Anna Maria Friday evening.
Kirke began and ended Friday's outdoor concert playing the drums in his signature rock solid, snare drum-cracking style. He sang all the lead vocals and throughout the evening he also played acoustic guitar, ukulele and piano.
The Empty Pockets, an excellent Chicago-based Americana/rock band in their own right, served as Kirke's backing band after playing a short set of their own songs before Kirke joined them on stage.
17-year old lead guitarist and lead vocalist Johnny Jensen opened Friday's show in Anna Maria, Florida.
Kirke's works
Kirke's set began with the Bad Company hit "Movin' On," which set the tone for the enjoyable and engaging performance to come.
Next was the title track from Kirke's latest solo album "All Because of You," which he recorded in 2016 with The Empty Pockets. Featuring acoustic guitars, a catchy melody and an upbeat, bouncy tempo, "All Because of You" is one of many songs Kirke wrote for and about his wife, Maria Figueredo, for his third solo album.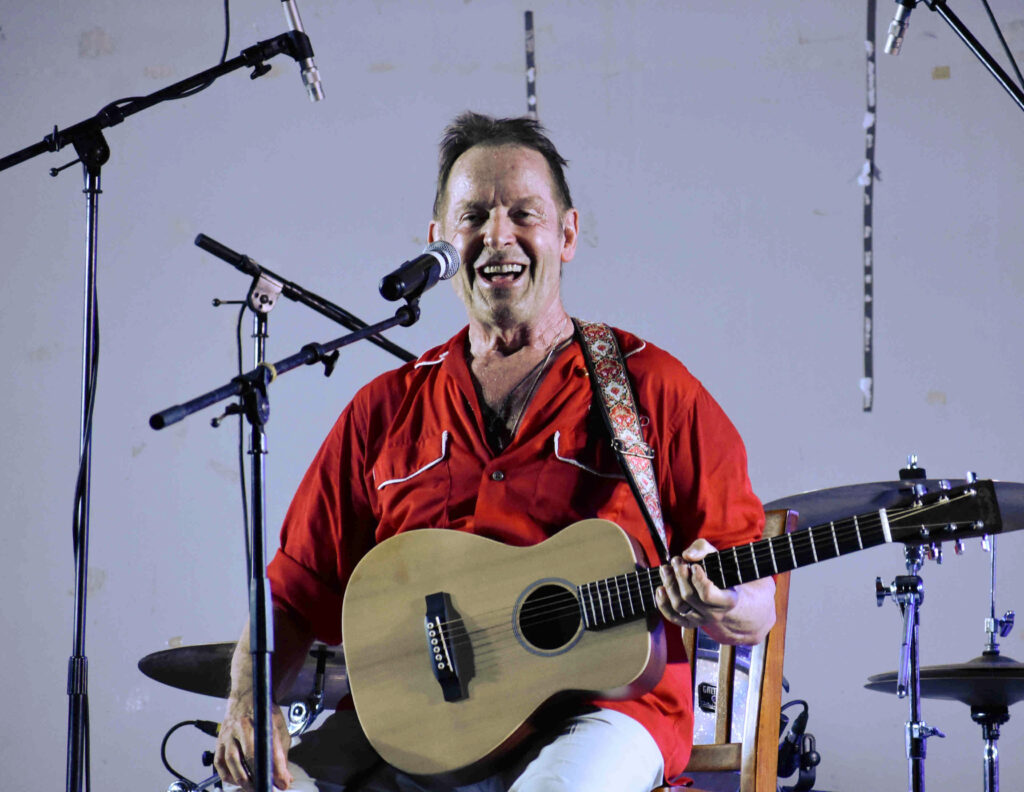 After a tip of the cap to his health-challenged Bad Company bandmate Mick Ralphs," Kirke led the band through another Bad Company hit, "Ready for Love" – a song Ralphs originally wrote and recorded as a member of Mott the Hoople.
Kirke and the band then dug deep into the Free catalog (Kirke and Bad Company lead singer Paul Rogers' previous band) and played "Love You So" – a poignant song co-written by Kirke and Rogers about saying goodbye and watching time slip away.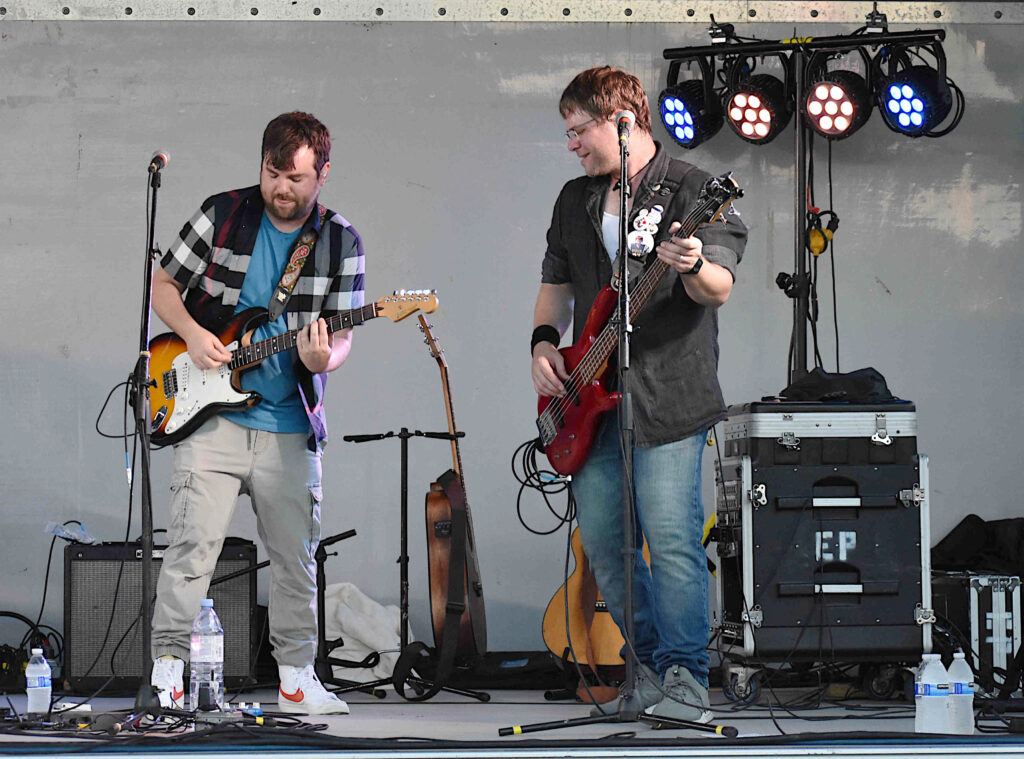 After sharing a story about his friendship with Beatles drummer Ringo Starr, and becoming a member of Ringo Starr & His All-Starr Band, Kirke introduced a song he said was inspired by Paul Simon's "50 Ways to Leave Your Lover," as well as his own personal journey from rock star excess to sobriety. After performing the semi-serious parody, "50 Ways to Love Your Liver," Kirke joked, "It's the most expensive song I ever wrote."
Kirke then introduced his bandmates for the evening: Josh Solomon on electric and acoustic guitars, keyboards and backing vocals, Erika Brett (Solomon's wife) on keyboards and backing vocals, Nate Bellon on bass and backing vocals and Adam Balasco on drums, percussion and electric guitar.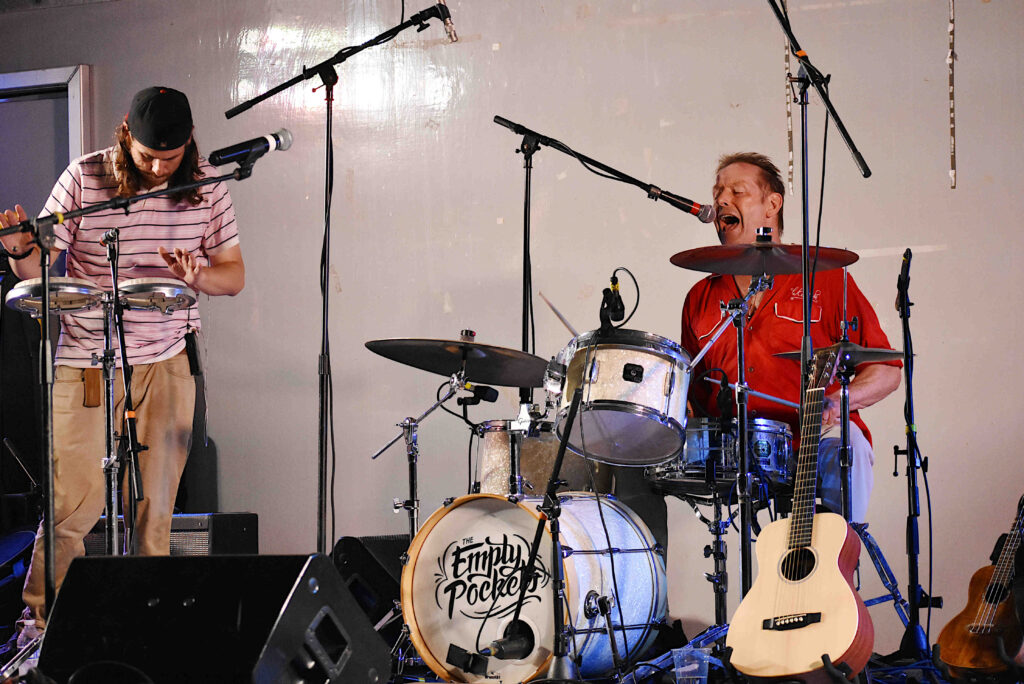 Before they played "Weep No More," from Bad Company's "Straight Shooter" album, Kirke said the song he wrote was heavily influenced by Aretha Franklin's "Mary, Don't You Weep."
"I loved it and I completely stole it," he said of Franklin's song.
Inspired by an audience member who more than once shouted out a request to play Lynyrd Skynyrd's "Free Bird," Kirke told an impromptu story about three of the original Lynyrd Skynyrd band members joining Bad Company on stage uninvited during a show in London. They then took lead singer Paul Rogers out on the town for an adventure that ended with a short stay in a London jail and a call to Kirke to bail them out.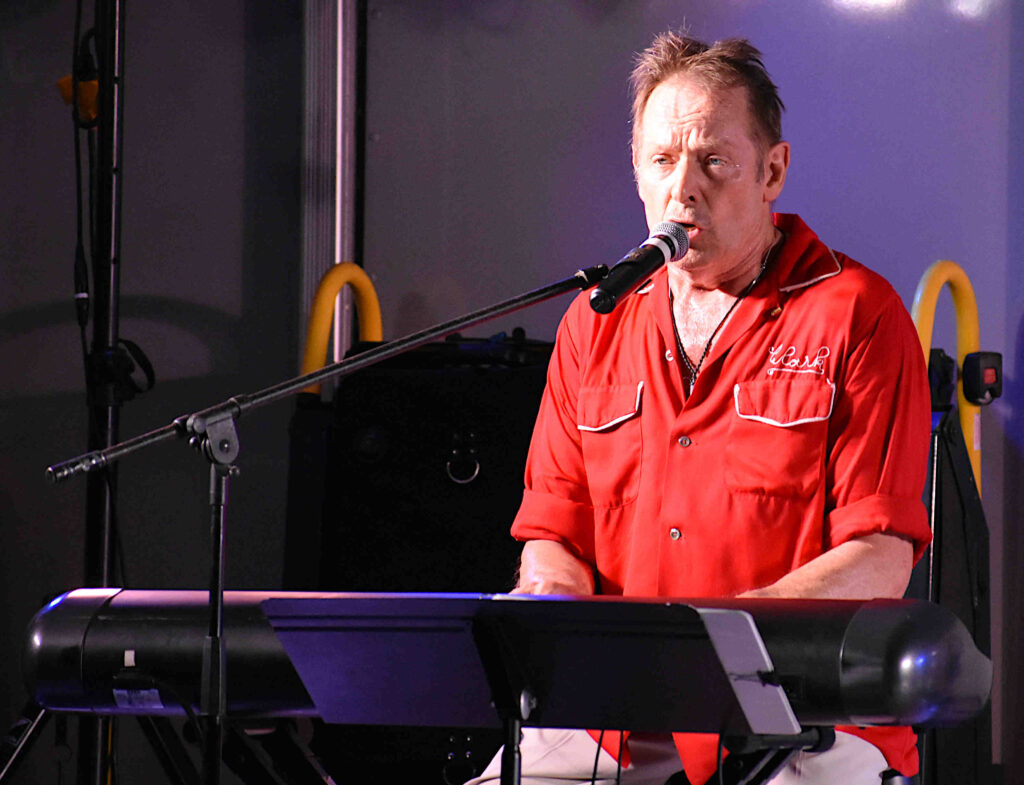 While sitting at the piano, Kirke introduced the piano-driven song Bad Company song "Silver, Blue & Gold" as a song he wished that band played more often.
Kirke remained at the piano for one of the unexpected highlights of the evening: the song "Melting on Madison," and the story Kirke told about a real-life encounter in New York City that inspired him to write it for his "All Because of You" album.
"I'm out on Madison Avenue trying to get a cab. It's about 11 at night and it's pouring rain. In front of me is this couple, and they're obviously mad for each other. They're getting drenched and she breaks from him and goes, 'Oh darling, I want to melt into you.' I'm thinking she must really love this guy. So, I went home and I wrote this song," Kirke said, before performing the beautifully romantic, jazz-tinged song.
Kirke also told a story about a late night/early morning ride he took in Los Angeles as a passenger in a 2,000 horsepower funny car driven by Led Zeppelin drummer John Bonham. The short-lived joyride resulted in Bonham getting pulled over before he got the car out of first gear, but "Bonzo" avoided any further legal troubles when he handed the officer four tickets to an upcoming Led Zeppelin concert at the L.A. Forum,
When introducing the song "Maria," Kirke said, "This song is written for my wife."
Before starting "Maria," Kirke noted that he previously wrote a Bad Company song called "Anna." This promoted him to say, "How about that? Anna, Maria," in reference to his location that evening.
When performing the song "Maria," accompanied by Solomon on keyboards, Kirke sang the following opening lyrics: "She walks in beauty through the night, with the moon and the stars around her, When she smiles at me, my heart takes flight and I bless the day that I found her…"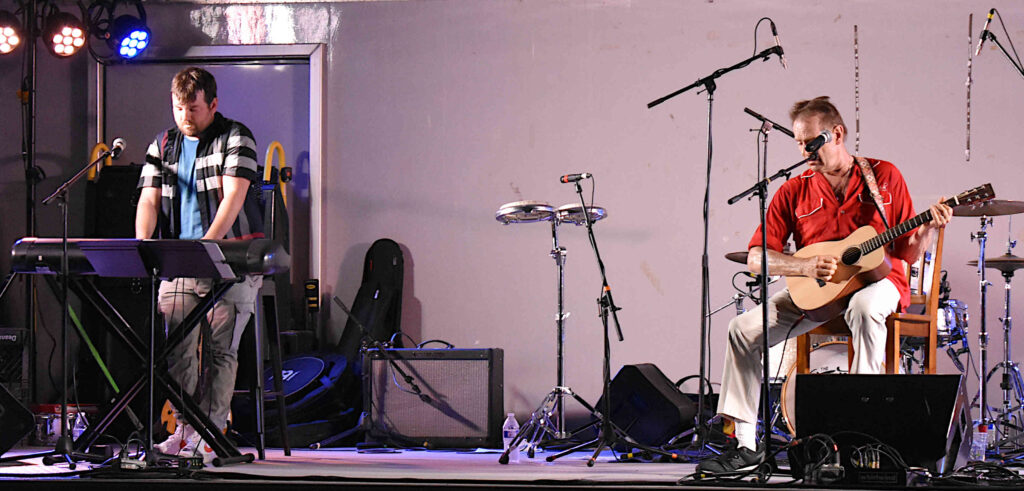 Kirke told another story about the time he met Bob Marley and watched Bob Marley and The Wailers rehearse in a smoke-filled room in Kingston, Jamacia.
Kirke's Bob Marley story led to a reggae-infused version of Bad Company's "Feel Like Making Love," on which Kirke joyously strumming a ukulele – as he did on the studio version he recorded with The Empty Pockets for his "All Because of You" album.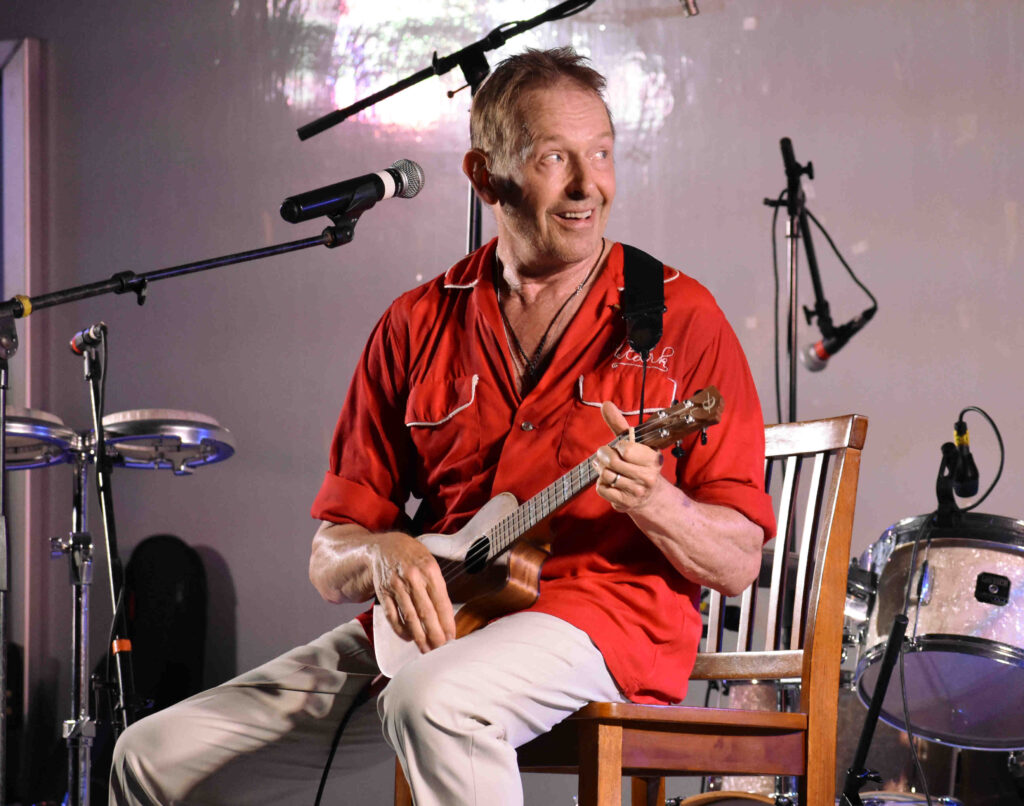 Kirke's last story of the night was about a party he attended at George Harrison's mansion and the magical boat ride Harrison gave him on the underground lake below his mansion.
Kirke then returned to the drums to finish the show with three of Bad Company's biggest hits, beginning with "Shooting Star" – a cautionary tale of a rock star who died with "a bottle of whiskey, sleeping tablets by his head."
When "Shooting Star" ended, Kirke said, "Before we do this last song, thank you for turning out. It's been lovely. Here's a song that me and Paul wrote with a joint and a pint of lager. It took 10 minutes and it put all my kids through college, and me through rehab."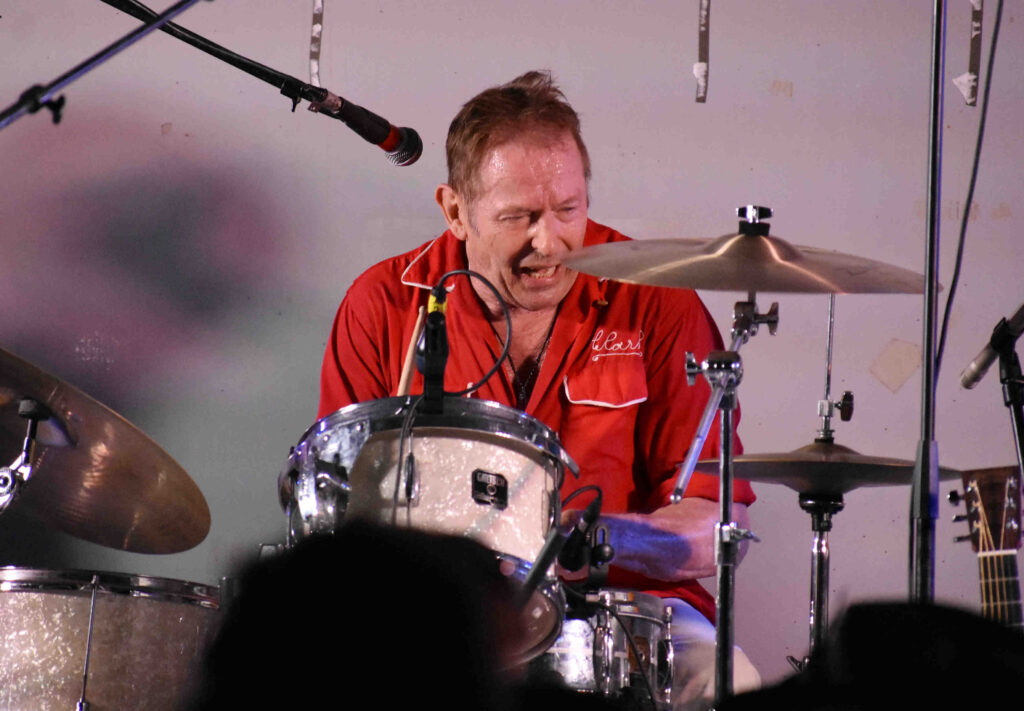 Kirke and the band then launched into Bad Company's namesake song "Bad Company," which led many folks to jump to their feet and gleefully make their way toward the front of the stage.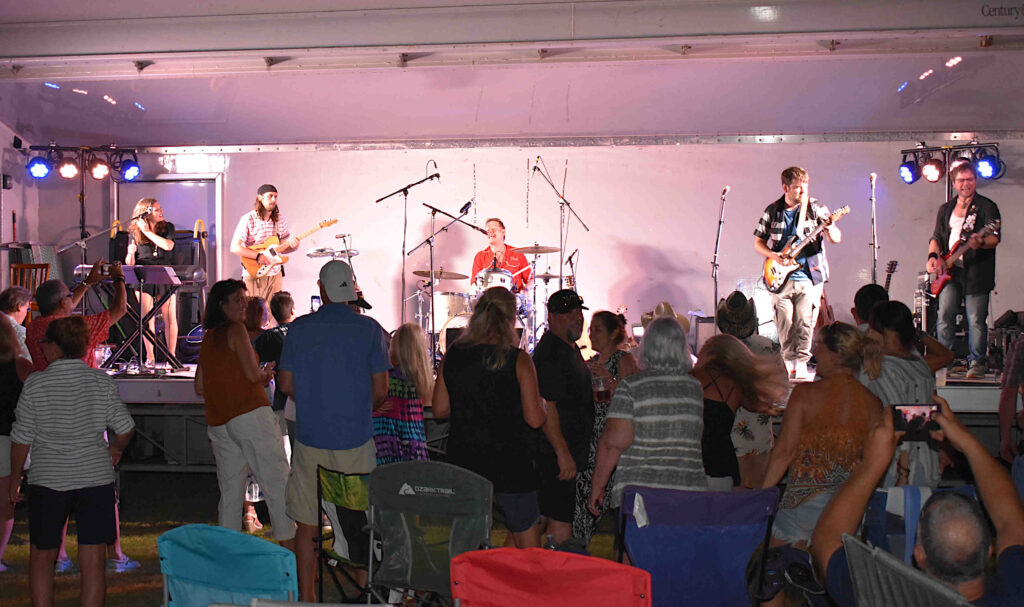 Rather than leave the stage and return for an encore, Kirke said, "We can make a show of going off, but we want to do one more song." He then counted off Free's "All Right Now," which features the signature snare drum beat Kirke devised in 1970 when Free recorded what would become that band's biggest hit.
Sarasota residents Joe and Kara Collins attended Friday's show and afterward Joe Collins proudly displayed a drumstick Simon Kirke tossed into the crowd.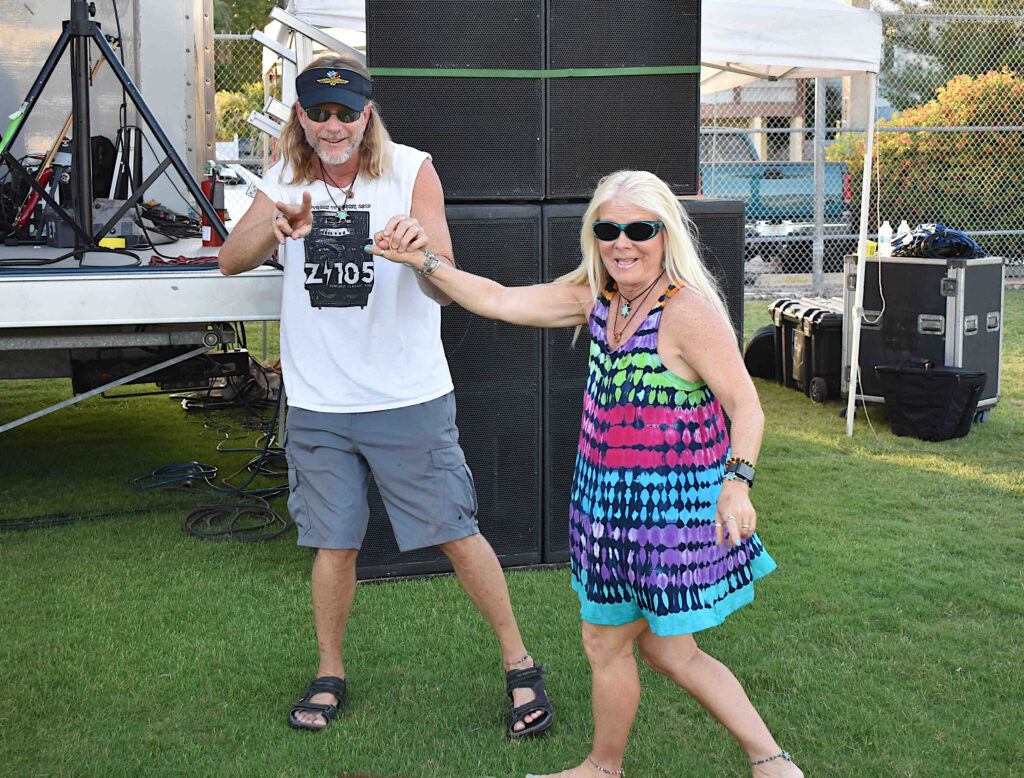 "I absolutely loved the show. This was my fourth time seeing Simon and it was wonderful to see a living legend again. I really enjoyed all the wonderful stories he told about John Bonham, Bob Marley and The Beatles," Joe Collins said.
When contacted Monday, Josh Solomon said, "Playing the hits of Bad Company and Free with Simon on the drums – as our first show back after a global pandemic – was pretty damn epic."
When contacted Monday, Kirke said, "Overall, I loved the show. The audience was great. Even the hecklers were nice – raucous, but well-meaning. I loved Anna Maria Island. Great vibe. Like a time warp. Beautiful little houses. I can see why people like this place. And the staff at the venue were so nice. All in all, it was a beautiful evening."
The only flaw in Friday's show was the PA system occasionally cutting out at times, which was beyond the band's control.
Pockets far from empty
During their four-song warmup set in which Solomon and Brett shared lead vocal duties, The Empty Pockets played an unreleased song called "Outside Spectrum," and "Wolfpack," from their 2019 release, "Tanglewoods" – the latter of which featured Brett's soaring vocals.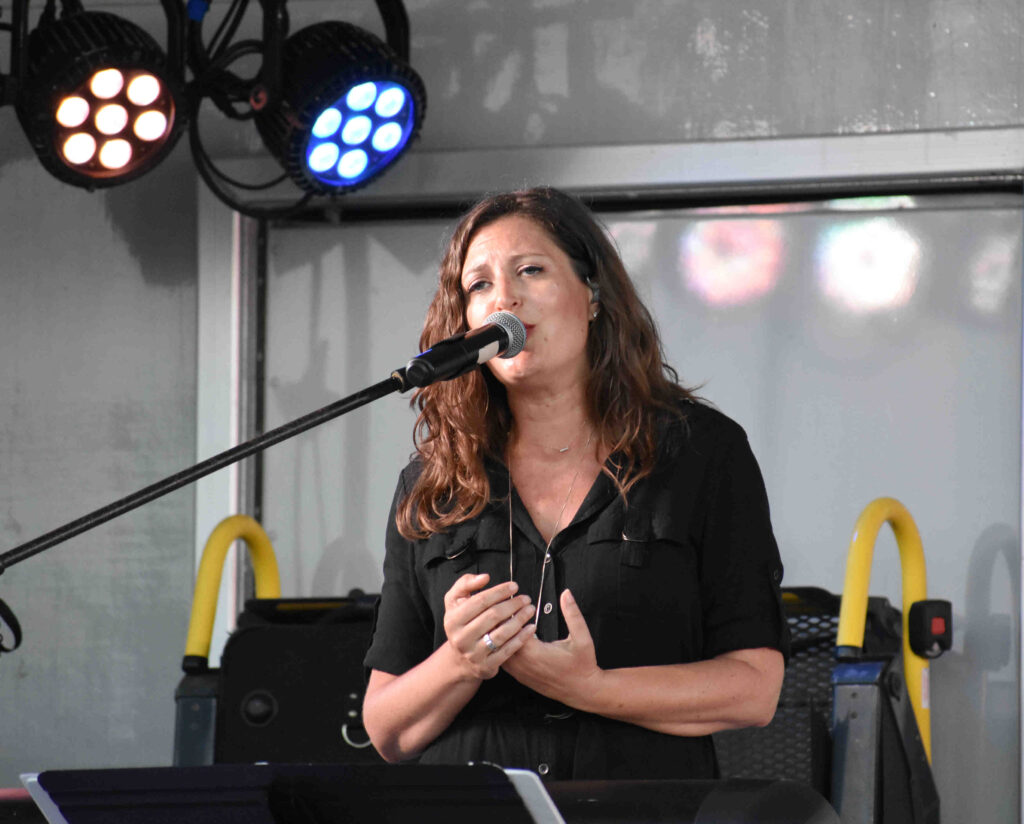 The band then invited percussionist Gerardo Velez to join them on stage. When introducing Velez, references were made to a famous photograph featuring Velez playing percussion at the Woodstock music festival with guitarist Jimi Hendrix in 1969.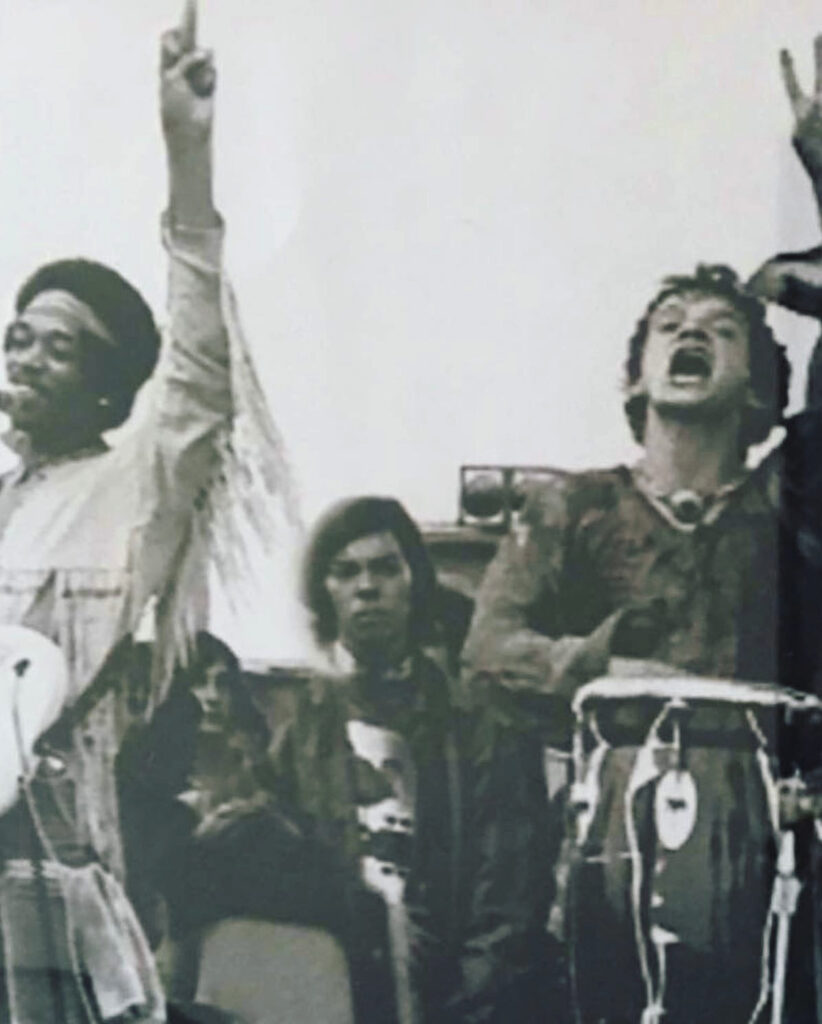 Velez has also performed with and/or recorded with Elton John, David Bowie, the popular jazz group Spyro Gyra and others.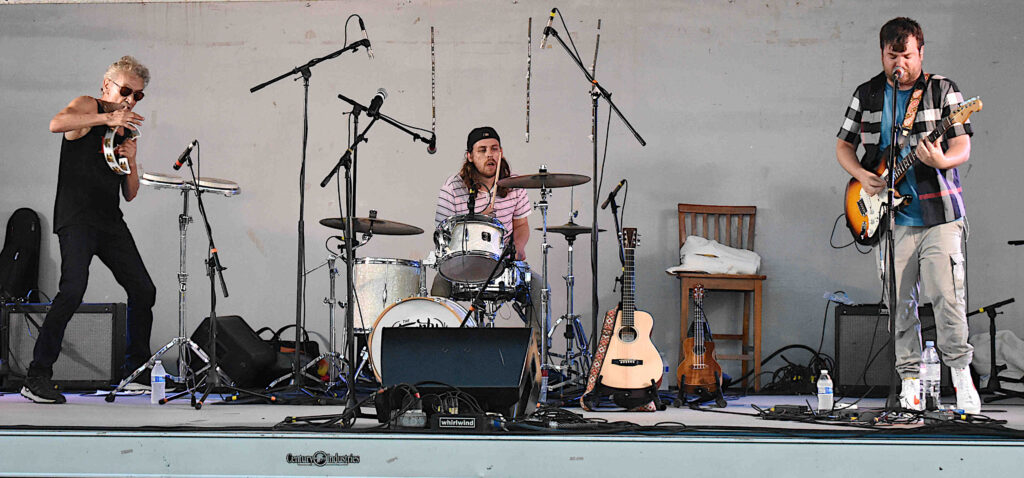 Velez joined The Empty Pockets for "The Bubble," a song from their "Voices" CD. Velez enthusiastically and flamboyantly rocked a white tambourine and also played the compact conga drums Balasco would later play during Kirke's show. The Empty Pockets set also included "Fill It Up," from their "Tanglewoods" CD.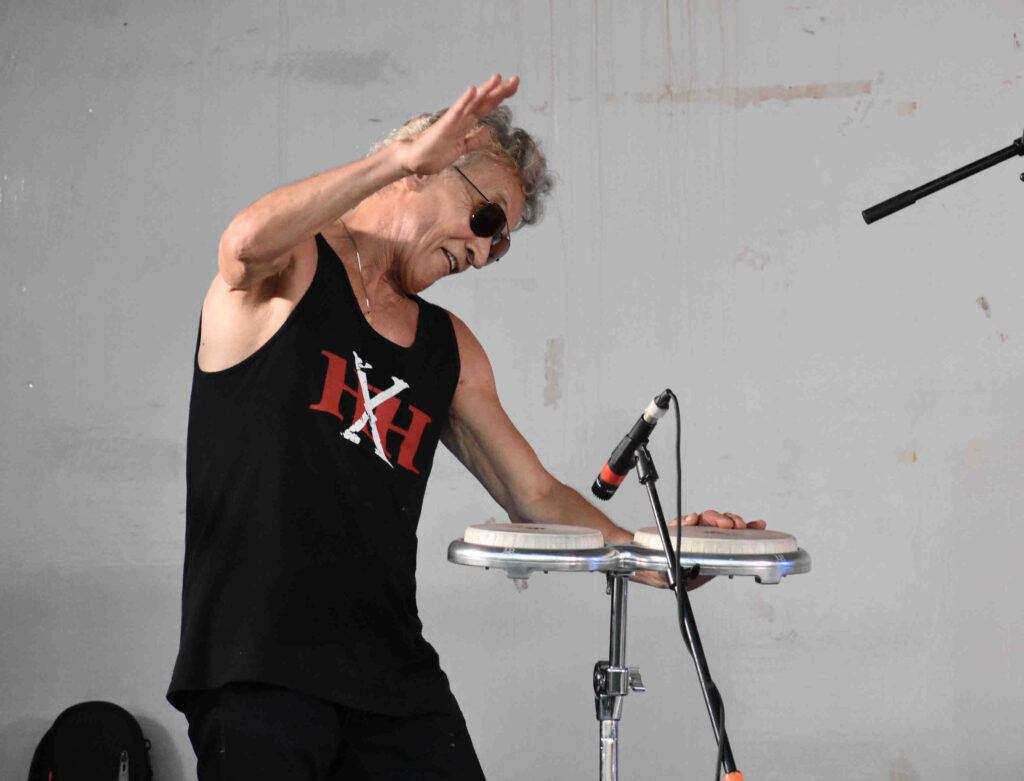 On Saturday, June 19th, The Empty Pockets will perform "Tanglewoods" in its entirety during one-time-only livestream event.
Up and coming
The evening started on a high note with an impressive set from 17-year-old blue/rock/jazz guitarist Johnny Jensen, who's still a high school student in his hometown of Captiva Island, Florida.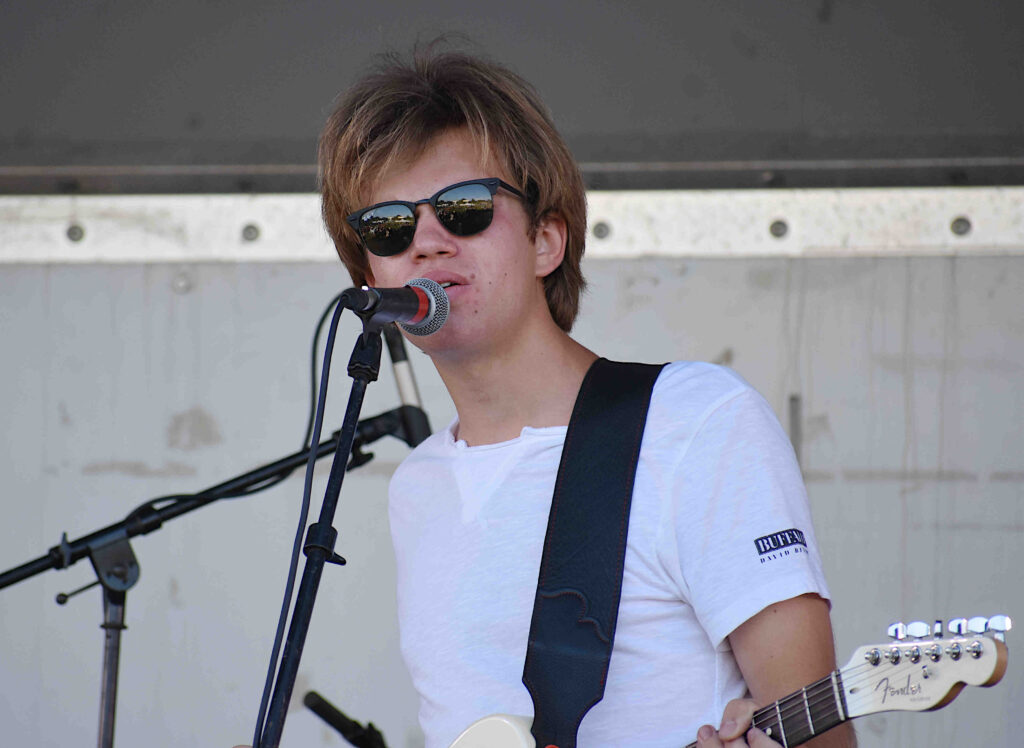 Filling out Jensen's smooth but rocking sound were acoustic guitarist Dave Dust and percussionist Darrell Nutt, who masterfully played a Meinl Percussion Slap-Top Cajon, an electric bass drum and at times a hand-held shaker.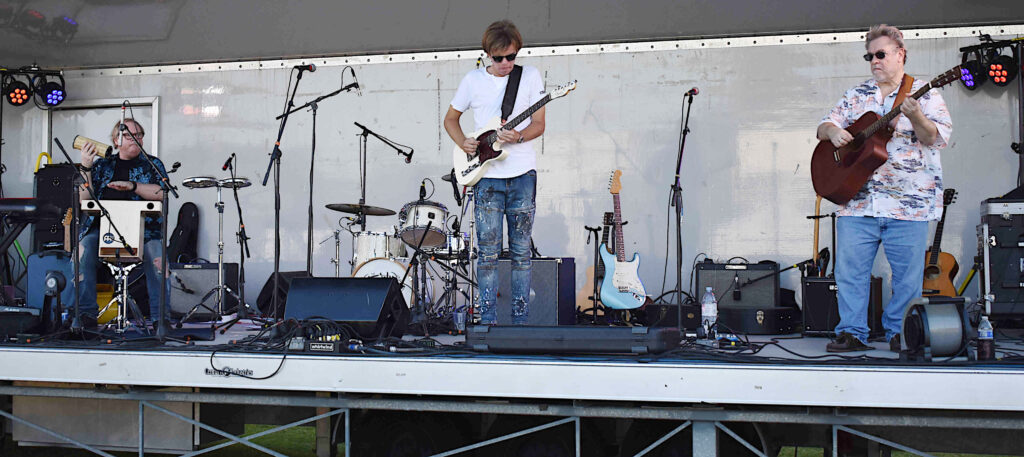 Jensen's set featured a few of his own compositions and cover songs that included his fantastic vocals and guitar work on his rendition of Bill Withers' funky hit song, "Use Me."
After his set ended, Jensen said that was his first visit to Anna Maria Island: "I thought it went very well. The crowd was great. I love playing here because where I'm from, Captiva Island, is very similar. I love the Island vibes and I'll come to future shows here."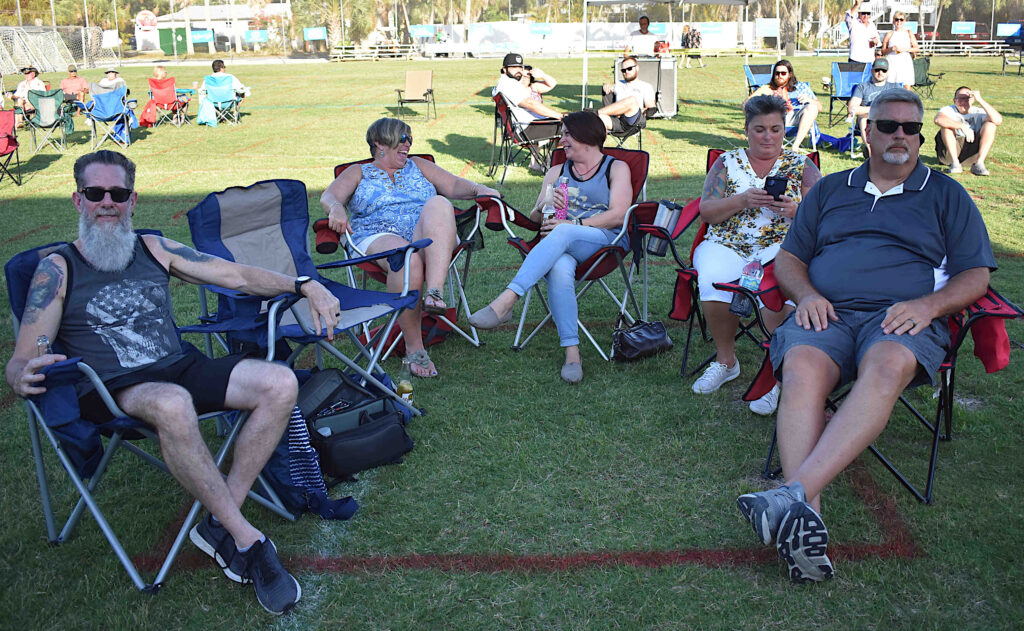 Jensen named jazz guitarists Joe Pass and George Benson as musical influences and Michael Jackson and Queen's Freddy Mercury as vocal influences.
Jensen said he hopes to do some touring later this year, but he also has another obligation to fulfill.
"I still have to finish school," he said of his upcoming senior year.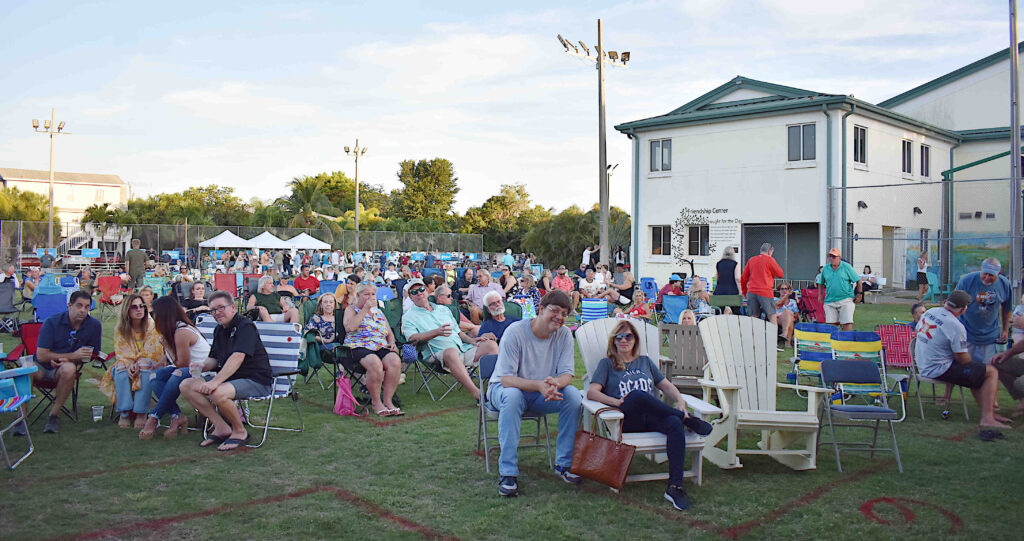 The Bradenton Gulf Islands Concert Series continues at The Center with former Journey singer Steve Augeri on Thursday, June 17, and with The Grass Roots and special guest Donny Iris on Friday, July 2.
The Sunshine Gazette's concert preview interview with Simon Kirke can be accessed here.