BRADENTON – On Thursday paralegal Michael Barfield filed a response to the motion attorney Morgan Bentley filed on Monday seeking a protective order for County Commissioner Kevin Van Ostenbridge.
In his response summary, Barfield states, "Van Ostenbridge claims he has produced all records responsive to the records request but wants to avoid questions about his production by invoking his Fifth Amendment rights due to a pending criminal investigation. As set forth below, there is a factual dispute about whether Van Ostenbridge has produced all records. Moreover, a blanket assertion of Fifth Amendment rights is not permitted under Florida law."
Barfield's response also states: "The contention that Van Ostenbridge produced all records responsive to the records request prior to the amended complaint is disputed by the parties. As one example, Van Ostenbridge's response to the amended order to show cause, filed on Dec. 23, claimed 'all items' sought in the records request had been produced. However, as recently as Jan. 26, Van Ostenbridge produced records responsive to the request that had not previously been produced."
"Two days later, Van Ostenbridge produced another version of the same record but with a different filename. An evidentiary hearing is required to resolve the dispute about whether all records have been produced. It is inconsistent for Van Ostenbridge to claim he has produced everything while seeking shelter under the Fifth Amendment to prevent any adversarial inquiry to test his claim of full compliance,." according to Barfield's response.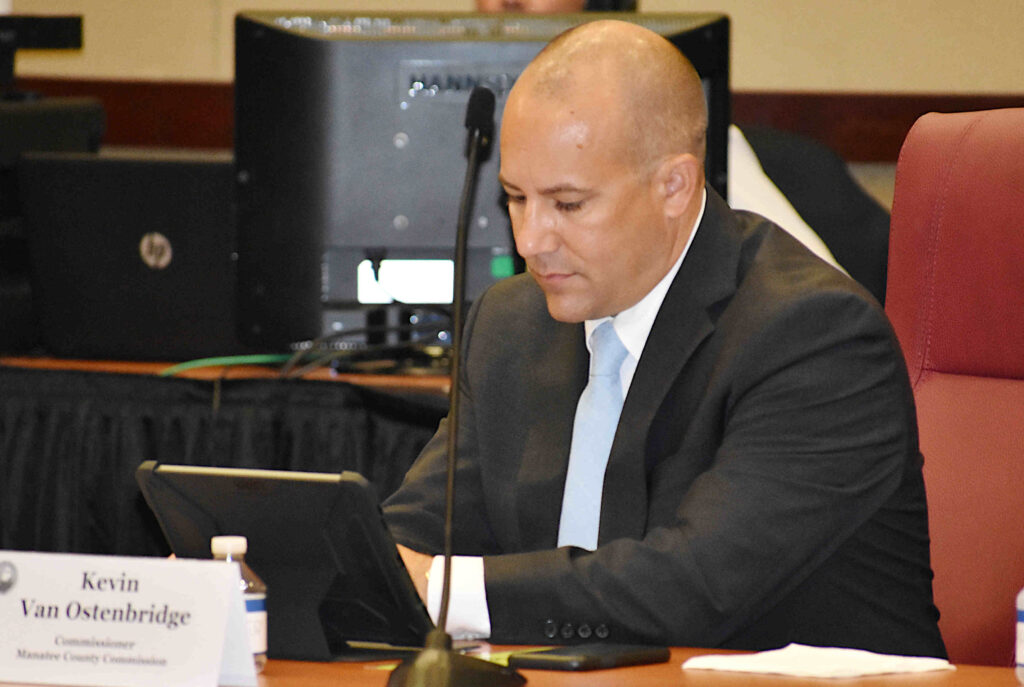 In his response, Barfield also states, "Van Ostenbridge makes an unsupported claim that it appears that the deposition is intended to elicit questioning related to Ch. 286, Sunshine Act issues. The scheduled deposition is for the purpose of testing the assertion that all records responsive to the request have been produced."
"As relevant here, Van Ostenbridge became the actual and exclusive custodian of public records by using private electronic devices to communicate about public business. Barfield is certainly entitled to ask questions about the creation, existence and retention of records responsive to the request," the response states.
Existing case law
Citing previous case law, Barfield's response also addresses Fifth Amendment privilege: "It is not disputed that 'witness may assert the privilege against self-incrimination during discovery in a civil case when he has reasonable grounds to believe that his answers would provide a link in the chain of evidence necessary for a criminal conviction.' However, Van Ostenbridge has prematurely asserted his Fifth Amendment rights. As Belniak v. McWilliams and other cases make clear, a witness cannot make a blanket assertion of the Fifth Amendment to avoid questions."
Citing a Third District Court of Appeal ruling, Barfield's response states, "A blanket assertion of Fifth Amendment privilege not available in civil proceedings."
The response then notes, "To properly invoke the privilege, a party must respond to each specific question by asserting the privilege. Once properly invoked in response to specific questions, the court then determines whether the responses to the questions posed will potentially implicate the party asserting the privilege. When a trial court is presented with such a contention, it must exercise its discretion and also determine whether it is reasonably possible that the answers could evoke a response 'forming a link in the chain of evidence which might lead to criminal prosecution.'"
Citing a Third District Court of Appeal ruling, Barfield's response states: "Deponent must assert his Fifth Amendment right to each particular question, which must then be certified to the court for resolution at a hearing."
Citing existing case law, Barfield's response states: "Party is required to make a specific objection to a particular question and, at that time, assert his Fifth Amendment privilege."
Citing case law again, Barfield's response states: "As explained by the Fifth District: 'Not every question asked in a deposition or interrogatory will implicate the Fifth Amendment privilege. However, if Respondent believes a question may lead to incriminating evidence, she (or he) can make a specific objection to the question, assert her (or his) Fifth Amendment privilege and, at that time, the trial court, if requested, can exercise its discretion in determining whether it is reasonably possible that the answer could evoke an incriminating response.'"
In closing, Barfield's response states, "It is not the witness who determines whether the answers fall within the privilege. Rather, only after Van Ostenbridge asserts his Fifth Amendment privilege to specific questions posed during a deposition does a court address the issue and conduct the test outlined in Belniak. For the above reasons, the motion for protective order should be denied as premature."