BRADENTON – District 3 Manatee County Commissioner Kevin Van Ostenbridge is raising funds for 16 families recently displaced by an apartment building fire.
The fire occurred at the Aaron Lake apartment complex in west Bradenton on Saturday, Nov. 6. The 16 apartments damaged in the fire were all located in the same large, connected building. The apartment complex is located at 4325 40th Street West, near the Bowlero bowling alley on Cortez Road.
Van Ostenbridge, whose commission district includes west Bradenton, Anna Maria Island and the north end of Longboat Key, witnessed the fire first-hand. Moved by what he saw, he then started a GoFundMe online fundraiser that as of late Friday morning had raised $16,835 to assist the displaced families.
Thursday morning, Van Ostenbridge held a press conference in front of the burned out apartment building to discuss the fire and the fundraising efforts.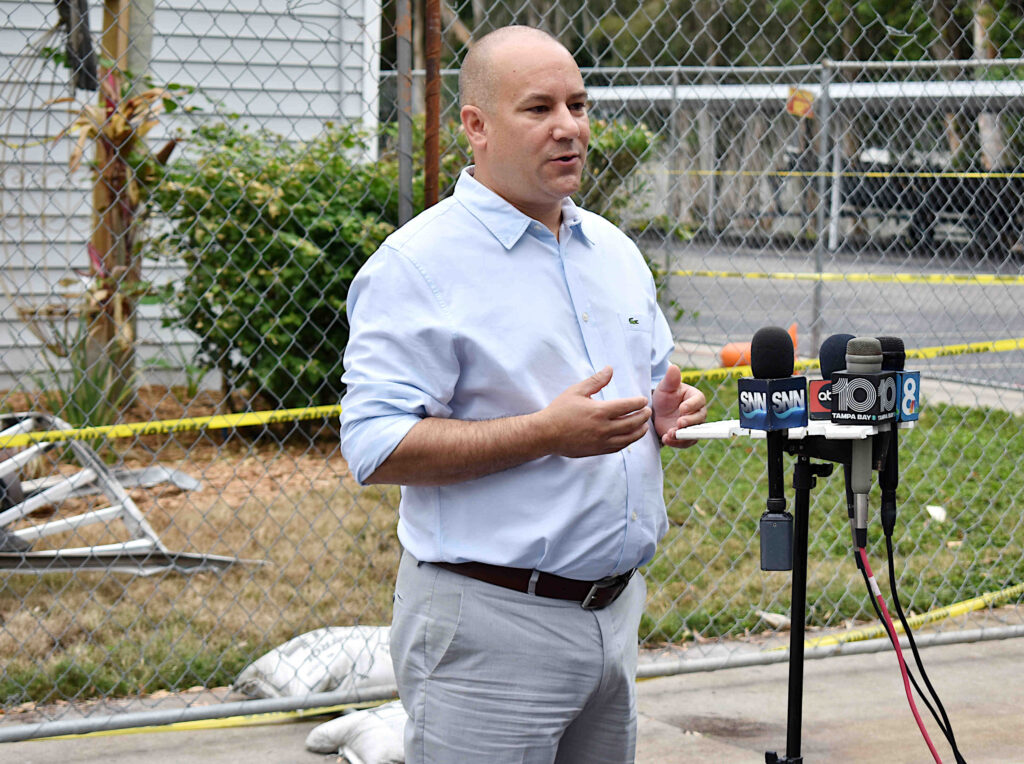 "I was actually on a ride-along with the Manatee County Sheriff's Office and we responded to this fire, so I can attest to some of the horrible things that were experienced that night by these families, as well as the bravery we saw from a father (who rescued his children) and our first responders that night," he said.
He noted Cedar Hammock Fire Rescue, the Bradenton Fire Department, West Manatee Fire Rescue, Southern Manatee Fire Rescue and Manatee County EMS responded to the four-alarm fire.
According to Van Ostenbridge, four injured children were airlifted from nearby G.T. Bray Park and flown to Tampa General Hospital.
"There were three helicopters at one time landing on the soccer fields there," he said.
"Thanks to the heroics of our first responders, that father, and the grace of God, no one died. Six people were transported to trauma centers, but in the end, everyone survived," he said.
He noted one pet was lost, but many others were saved.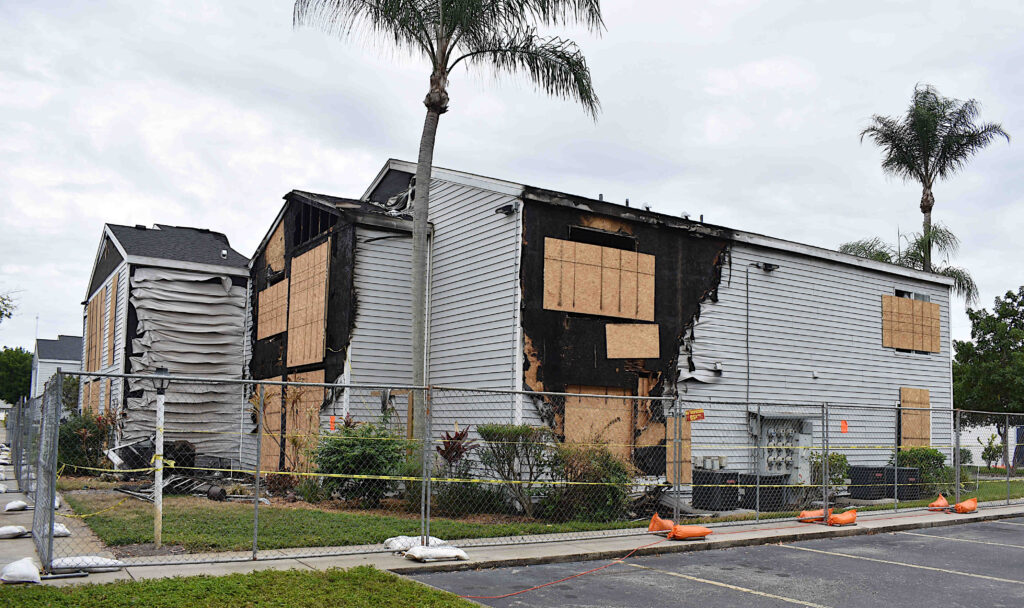 "The cause of the fire was a dryer vent. This building appears to be a total loss," he said of the structure behind him.
Van Ostenbridge said the American Red Cross (Southwest Florida Chapter), on the night of the fire, provided each displaced family with a $900 debit card to help meet their most immediate needs.
"Which is greatly appreciated, but we all know with a family $900 doesn't take you very far, especially when you have no place to go. So, I started this GoFundMe. We raised $12,500 so far (as of that morning) and this weekend is going to be the final push to raise money for the families. On Monday, I want to start distributing the money to the families in time for Thanksgiving. They have medical bills, they've been displaced from their home and virtually all of their possessions have been lost," he said.
"I thank the community. Some people I called and asked to contribute money, but the vast majority of over 100 contributors either contributed anonymously or were names I did not recognize. We're hoping to make one last push to help these families before the Thanksgiving holiday," Van Ostenbridge said.
"I'm going to shut down the GoFundMe on Monday (Nov. 22) because I feel it's important to get these folks some cash relief before the holiday. Any donations we can get over the weekend are very much appreciated. I'm hoping to hit $16,000 for 16 families and give them each a $1,000 cash infusion as they head into the holidays," he said.
The assistance efforts extend beyond the online fundraiser.
"We have had members of the community reach out. Bayside Church, The Bridge Church and several churches have reached out to ask what they can do. I had the county assign a social worker to this case to try and help these families and coordinate the relief efforts. And we've had over 100 members of our community that have donated financially," he said.
Van Ostenbridge said the Salvation Army is also providing assistance and Tidewell Hospice is providing counseling for those who need it. He advises folks to contact the Red Cross or the Bayside Church to see what else can be done to assist the displaced families. The Red Cross office in Sarasota can be reached at 941-379-9300. Bayside Church's West Bradenton campus can be reached at 941-755-8600.
Lasting impact
"People think of west Bradenton and the Islands as these very affluent communities, but the truth is the meat and potatoes of west Bradenton are working families and blue collar families. A lot of these folks are paycheck-to-paycheck working families. The apartment complex gave them their deposit back and their last month's rent and they sort of got patted on the behind and sent on their way. These people have to go on with their lives and they're still very much in a bad way. We all know it's a very difficult housing market and you can't just walk up to an apartment complex and expect to move in in a few days. This may have to float these folks until they're able to move into an apartment," Van Ostenbridge said.
He said affordable housing was the topic of lengthy discussion at the previous night's county commission meeting. He also said the large influx of people moving into Manatee County has placed additional pressure on an already tight housing market.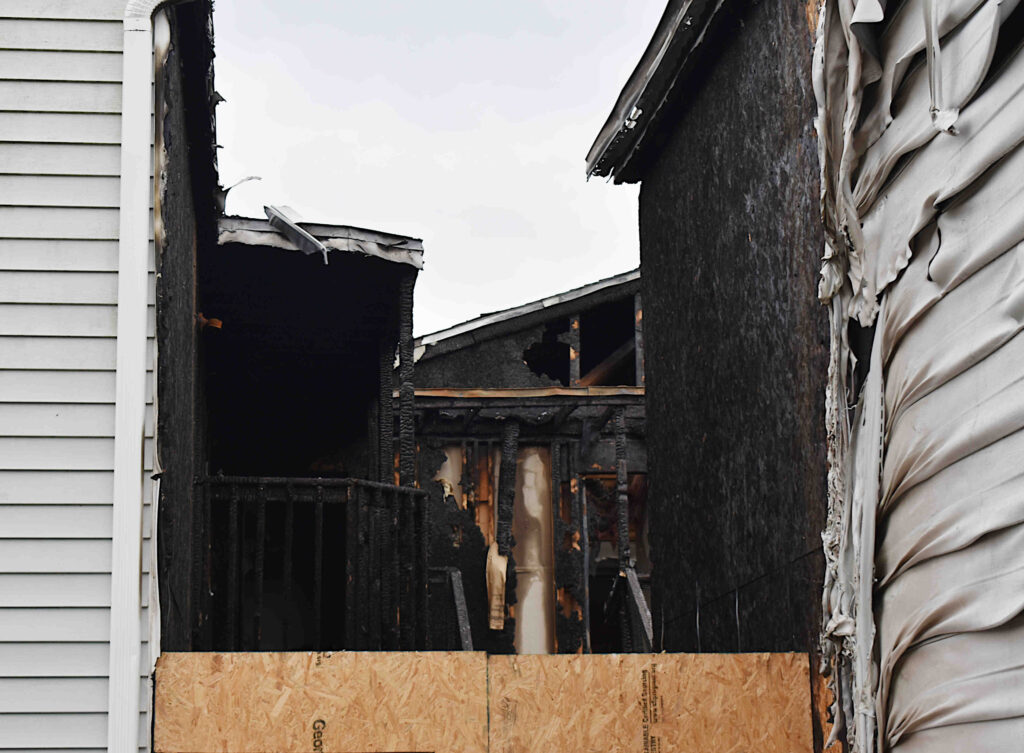 Van Ostenbridge was asked what he saw and felt the night of the fire.
"When I arrived there was about 30 feet of fire coming out of the second story of this building. Cedar Hammock fire department was just pulling up on the scene. There were people shouting there were still people and children and pets inside the burning building. Cedar Hammock fire department reacted heroically and immediately went straight into what was an inferno at the time. They immediately began evacuating people in a systematic and calm way and they went straight into the danger and literally saved lives," he said.
"It was a chaotic scene when we arrived, however, as the first responders showed up things calmed very quickly. I was terrified that people were going perish in the fire. I then watched firemen running into the buildings and I was terrified that something would happen to them while they were in the fire. It was certainly emotional to see a fireman giving CPR to an infant. It was certainly emotional to see people screaming that children were in burning buildings," he said.
Van Ostenbridge said he accompanied the sheriff's deputies who helped evacuate the occupants of the neighboring buildings that were not on fire.
"That was the extent of my participation. Even those folks who did not suffer fire damage to their apartments, they spent a cold night sitting in a parking lot," he said.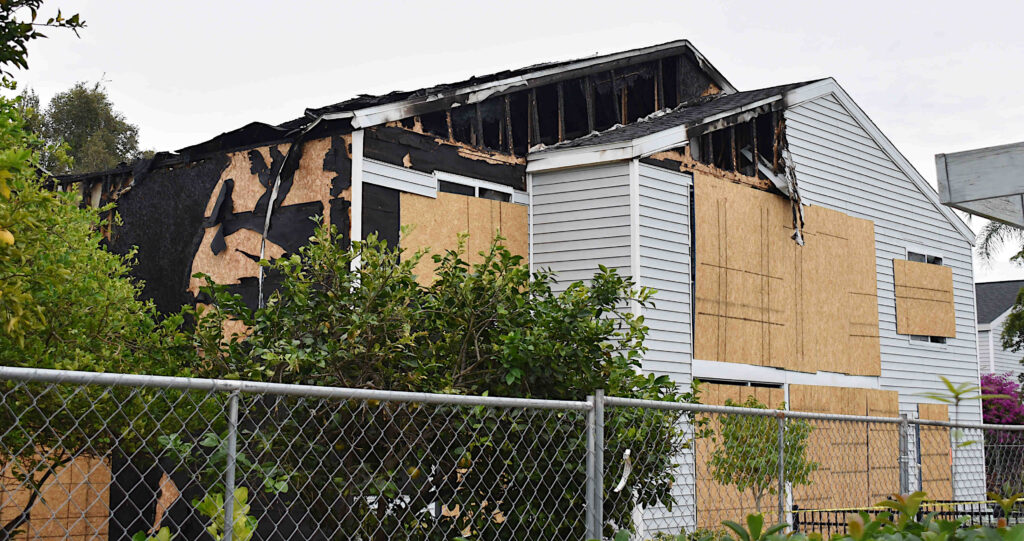 "It's important to recognize the heroics of our first responders, but this press conference is also to remind people that there is an aftermath for these families and the days and weeks that follow don't necessarily get easier for them. They've been displaced from their home, they've lost all their possessions and to a certain extent they have to start over. We're fortunate that every life was saved, but there is an impact to your life when your displaced from your home leading into the holidays," Van Ostenbridge said.
Van Ostenbridge also share some video footage he shot the night of the fire.